By Maggie Fox, Senior Writer, NBC News:
It gets in your food, in your laundry, it sticks to plates and it might even float into the air when you flush your toilet. A new strain of norovirus — often called stomach flu — is going around and it's going to be very hard to avoid it, experts say.
Federal health officials say a new strain, called the Sydney strain, is now causing most of the misery across the United States and the world. The virus, sometimes known as Norwalk virus or winter vomiting disease, causes vomiting, diarrhea and that someone-just-hit-me-with-a-plank feeling.
There's no real treatment for it except for waiting it out, no vaccine, and recent studies show it's one of the hardest viruses to get rid of. Simple cleaning alone doesn't always kill it, and it takes just a few particles of virus to sicken a person.
"It is pretty difficult to get rid of," says Allison Aiello, who studies how viruses spread at the University of Michigan. "It is pretty stable. It lives quite some time on surfaces. It is hard to kill."
For instance, a few recent studies show that a quick application of hand sanitizer won't get rid of it, Aiello says. And most people don't wash their hands properly, either — it takes about 30 seconds of vigorous rubbing using hot water and soap to wash away the tiny bits of virus, and that means getting under the nails, too.
Perhaps worst of all, people start spreading norovirus before they actually feel sick, and they can spread it for as long as two weeks after they start getting better.
Read the whole NBC article  HERE.
——————————————————————-
Many aromatherapists and moms I know are fighting back! But instead of vaccines and antibiotics, which doctors have all agreed are useless against this virus anyway, they are fighting back with powerful essential oils. See BBC article, "Aromatherapy Oils Kill Super Bug." Essential oil blends like Young Living's Thieves have powerful antibacterial and antiviral properties, so our family has decided to be diligent with their use!
CLICK HERE to find out how one common scents mom arms her family during cold and flu season!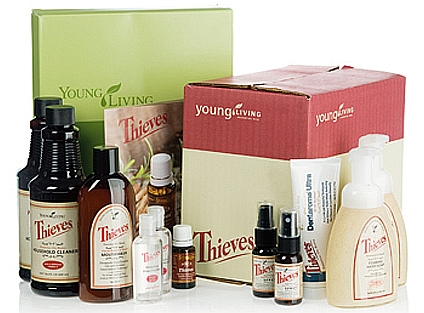 Here are a few tips to stay healthy when the flu and various other dangerous viruses are going around:
Wash hands often and thoroughly with Thieves Soap and warm water. Carefully Scrub under nails with a nail brush.
When you're out, and unable to wash your hands very often, bring along Thieves Waterless Hand Purifier and keep your hands away from your mouth.
Use the Thieves spray to sanitize your steering wheel, grocery carts, public telephones, etc. You can even use a squirt in your mouth if someone around you has been coughing. The spray also works great in your "personal space" on an airplane.
Use Thieves Cleaner to sanitize floors, counter tops, door nobs, telephones, keyboards, toilets, sinks and handles, counters, etc.
Diffuse Thieves essential oil blend to cleanse, oxygenate, and freshen the air. Inhaling the powerful oils may also help to take care of any germs or viruses lurking in your system!
Apply Thieves to the bottoms of your feet at night before going to bed (dilute with olive or coconut oil for children).
Boost your immune system by drinking 2-4 oz. of NingXia Red and taking the following immune boosting soft gels each day:
Inner Defense Soft Gels

Young Living's Inner Defense reinforces systemic defenses, creates unfriendly terrain for yeast/fungus, promotes healthy respiratory function, and contains potent essential oils like oregano, thyme,and Thieves which are rich in thymol, carvacrol, and eugenol for immune support. The liquid softgels dissolve quickly for maximum results.

For optimal results, take Inner Defense in the morning and at noon, followed by Life 5 High-Powered Probiotic at bedtime. This may quickly move the bacteria and virus from the body.
By the way, becoming a wholesale customer is definitely the most cost effective way to purchase the therapeutic grade essential oils you need to help protect your family! And, through February 28th, every new wholesale customer who purchases a premium Start Living Kit (or spends at least 100 PV their first month) will receive a credit for $40 in free oils! This is in addition to the FREE reference book I will personally purchase for you!
CLICK HERE to learn more about the wholesale program, or CLICK HERE to sign up directly right now!
*DISCLAIMER: The information provided on The Common Scents Mom is for educational purposes only. It is not intended to prescribe, diagnose, treat, cure, or prevent any disease. It is your responsibility to educate yourself and address any health or medical needs you may have with your physician. Please seek professional help when needed.