I am so crazy-excited to announce the complete remodel of The Common Scents Mom! In addition to some spit and polish aesthetic updates, we have been working closely with our designer to de-clutter and make the site easier to navigate! While there are more updates still in progress, we are pleased to release the new site now!
So, in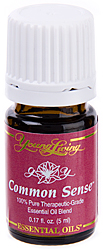 honor of the remodeling, and because I get a kick out of giving things away, we are offering a FREE bottle of Young Living's amazing stress-reducing blend, Common Sense, to any new member who purchases the Premium Starter Kit (through The Common Scents Mom) within the next 24 hours!*
Not only does the starter kit give you over $300 worth of products for only $150, it also qualifies you for wholesale status (24% discount on all purchases). And, to find out how many items from my medicine cabinet I was able to toss once I started using essential oils, download my FREE quick-reference Refrigerator Chart!
The Common Sense blend contains many amazing and exotic scents: Frankincense, Ylang Ylang, Ocotea, Goldenrod, Ruta, Dorado Azul, and Lime essential oils. This is a great oil to use during those stressful times of life when you need to think clearly and balance your emotions.
Everyone needs a few drops of Common Scents! So join the wonderful world of essential oils today, slather yourself in this intoxicating blend, and spread the love!
*Due to website problems this morning, this promotion is being extended to midnight September 18, 2014.
To get started using therapeutic grade essential oils with your family, I recommend purchasing our Premium Starter Kit! This way, you'll enjoy wholesale prices all the time! It includes eleven of Young Living's most popular essential oil singles and blends, an ultrasonic diffuser (worth $100.00!), essential oil samples for sharing, and 2 NingXia Red immune boosting drinks! In addition, I'll send you a free essential oil reference book to help you learn how to start using your essential oils! Get started now!
By the way, I am not a doctor – just a mom who uses essential oils in her own family. Please know that any information provided on The Common Scents Mom is for educational purposes only. It is not intended to prescribe, diagnose, treat, cure, or prevent any disease. It is your responsibility to educate yourself and address any health or medical needs you may have with your physician. Please seek professional help when needed.